Absolute Live Support XE
Live Chat Cusomer Support Software Developed in Classic ASP
Order Your Absolute Live Support Now!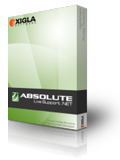 Product: Absolute Live Support XE V2.0 in Classic ASP Script
Price: US$149
Delivery: Electronic Download
» Looking for the .NET Version?, Click Here!
Special Offer:
Request this application bundled with any of our other solutions and receive incredible discounts. Click Here!

About The Ordering Process

We sell our products through ShareIT. ShareIT, is the company that receives payments on behalf of us. You'll be able to pay by credit card, wire transfer, money order, phone, PayPal, etc.


The ordering process is extremely easy and done in a 100% Secure server. You will be guided step-by-step during the complete order process.


Once your order gets approved by ShareIT, you will receive an e-mail with a link to download the product. This product will be delivered electronically. It will not be shipped to you on CD but you have the option to request a backup in a CD.


Please make sure that your web hosting provider meets the system requirements


By purchasing this Software you agree with the terms and conditions of our License Agreement.


All of our sales are final , you are being provided with a non-hosted application and source code. We guarantee that the software will work as advertised as long as the system requirements are met.
---
---